PE and Games
Mrs Polden is the subject leader for PE
Physical Education (PE) is a fundamental part of the curriculum that supports the educational vision or our school. The children's activity levels have fallen while schools were partially closed during the COVID19 pandemic. At the moment, PE is central to school development strategies, implementing recovery plans that focus on the whole child, supporting pupil's wider development including their mental health and social wellbeing. Our curriculum intent for physical education is that every child will:
take part in two hours of planned physical activity a week
experience high quality teaching from teachers at Northmead and sport coaches
develop the fundamental physical skills of agility, balance and coordination
apply these skills within a wide range of sports
have additional opportunities for physical activity within curriculum hours and outside of curriculum hours
be well informed to make exercise a part of their healthy lifestyle now and in the future
exhibit the School Games values of passion, self-belief, determination, respect, teamwork and honesty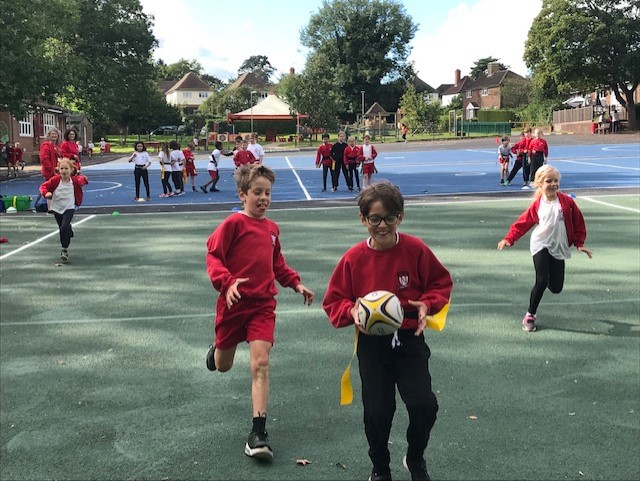 Northmead is committed to ensuring all children inclusiveness and access to high-quality physical education and sport. We use a sport coach, Mr Scott, as well as our teachers to deliver two hours of curriculum P.E. every week. In addition to two hours a week, classes participate in extra physical activity such as working towards a daily mile. The picture outlines the curriculum plan for the next academic year:
Term One
Term Two
Term Three
Year 3
Tag Rugby
Tag Rugby
Basketball
Yoga
Athletics
Cricket
Gymnastics
Gymnastics
Football
Hockey
Swimming
Tennis
Swimming
Swimming
Swimming
Swimming
Swimming
Fundamentals Y3/4
Fundamentals Y3/4
Ball Skills Y3/4
Fitness
Rounders
Year 4
Fitness
Tag Rugby
Dance
Dance
Athletics
Cricket
Gymnastics
Fitness
Netball
Netball
OAA
Rounders
Tag Rugby
Gymnastics
Hockey
Hockey
Tennis
Football
Year 5
Gymnastics
Tag Rugby
Dance
Athletics
Basketball
Fitness
Cricket
Hockey
Tag Rugby
Tennis
Year 6
Gymnastics
Gymnastics
Fitness
Fitness
Athletics
Athletics
Hockey
Hockey
Dance
Dance
Cricket
Cricket
Tag Rugby
Tag Rugby
Football
Football
Rounders
Rounders
Dance
The National Curriculum consists of the following areas:
Dance
Gymnastics
Games, including invasion, net & wall, striking and fielding
Athletics
Outdoor and Adventurous Activities
Swimming
Outside of Curriculum Hours
We offer a range of sports clubs during lunchtimes and after school. These include the following:
Football
Netball
Multi-sports
A wide range of sports being offered every lunch time to increase engagement in sport and physical activity
Subject in the Spotlight on the Newsletter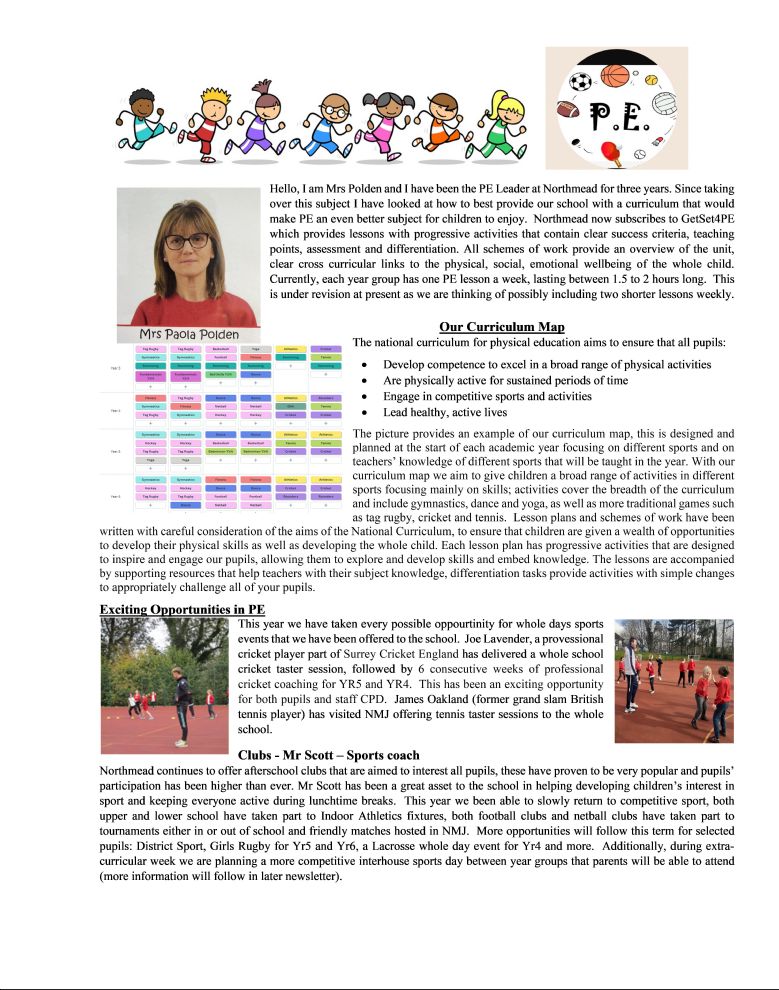 Useful website links
Try more, learn more, achieve more!