Northmead Supporters Team
Welcome to Northmead NST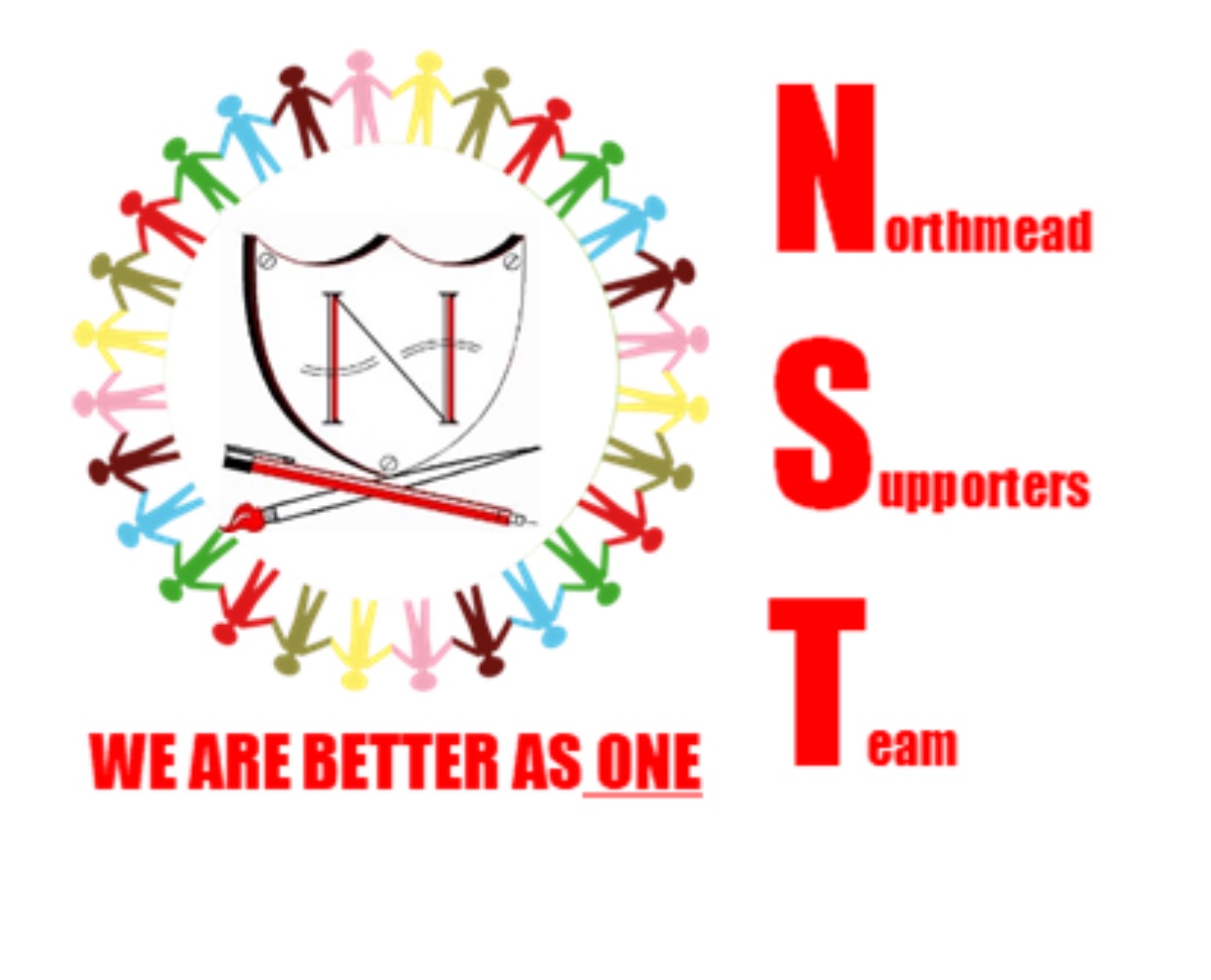 Who are we?
We are a small charity registered with the Charities Commission (reg no: 1182401), set up for the purpose of developing relationships between all those associated within the school and engage in activities, or provide funds which support the school and advance the education of its pupils. As a parent or guardian of a child at Northmead, you are automatically a member of the NST.
Behind the formality of a charity, we are just a group of dedicated parents who help to raise vital funds and organise fun events for the school!
Trustees are voted in at each AGM (held in September), therefore, they can change quite frequently. Our current trustees are:
Chair - Catherine Morton
Secretary - Kathryn Shepherd
Treasurer - Lisa Dixon
Staff member - Denise Lewis
Other member - Rebecca Lock
In addition to the trustees, we have a core committee of extremely hardworking worker bees! They organise events, send out Parent mails, publicise like crazy, help with the finances and basically run the show day to day!
We need you!
Our trustees and core committee are all working parents giving as much time as they can spare. Any time you can give to support them is very much appreciated (every little helps!). Whether it be volunteering on a stall, preparing tasks at home or taking a more active role within the committee yourself. Maybe you are creative and can help with new exciting ideas to raise money. New members and ideas are always welcome. Being a member of the NST is also a great way to meet other parents.
If you can give any time at all, please contact the NST via email or Facebook:
Email: Northmead.nst@gmail.com
If you would like to donate to the NST, there is a donation button on Parent mail under Payments/Shop – thank you.
What do we pay for?
Annually we are committed to paying for the following:
A curriculum workshop for each year group
Fantastic Friday activities
Enrichment weeks
School pet upkeep (Guinea Pigs, Rabbits and Chickens)
Extras
We also like to add extras where we can. In the past we have raised enough money to pay for/contribute to:
· Playground equipment/resurfacing of the all weather pitch
· Improvements to the school grounds
· Animal and wildlife areas (see below)
· Christmas present of books for every child and Christmas crackers for lunch
· Outside reading area
· School production
· Sports equipment/kits
· Hub Club
· Chess Challenge
· Additional workshop for the full school
· Art & Poetry week
Animal, Wildlife & Outside Exploration Area
Over the last couple of years we raised money to facilitate an expansion of the pets at school to include more guinea pigs and rabbits. We built a large walk-in enclosure to continue and better manage the ever-increasing popularity.
During lock down, with the help of volunteers, Miss Lewis, Tom Lewis and Miss Ramsay spent MANY hours creating the most amazing new pond area, complete with a shipwrecked boat! The NST were very happy to fund these improvements.
The animals are very important to our children's wellbeing and would also allow them to take on some responsibilities. We also provided resources for encouraging and supporting the wildlife areas and creatures that visit.
How do we raise our money?
Film night
· Tuck shops
· Summer Fair
· Annual sponsored events
· Bonfire and Fireworks Night
· Recycling unit
· Discos
· Second hand uniform sales
· Quiz Night
· Easter & Christmas raffle
Please see attached our annual Trustees Report and Treasurers Report for further information.
Privacy notice
The Northmead Supporters Team will only collect essential personal information with your permission about you or your child for the purpose of administering an event e.g. issuing tickets, list of volunteers, or to ensure safety during an event e.g. allergy information. For events this is usually name, class, tickets purchased and amounts paid held in order to fulfil our contract with you.
Personal information will be stored securely e.g. in password-protected files, and once the information is no longer required it will be securely destroyed.
Only members who need to use the data for an event will have access to it.
You may at any time ask to access the data we hold about you or your child, or ask us to withdraw your consent to hold that information/data.
Thank you for taking the time to read our page, and we would love to hear from you.
Kind Regards, NST
No comments have been left yet.