Tag Rugby Tournament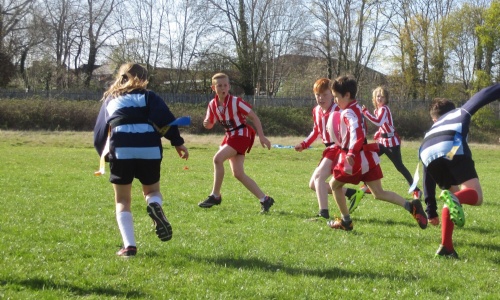 Three Northmead teams played well at the Guildford Tag Rugby Tournament held at Christ's College on 20th April.
On Wednesday 20th April, Northmead took three teams to Christ's College for the Guildford Tag Rugby Tournament. Schools from across Guildford were in attendance and it was brilliant to see so many children taking part. Some brilliant attacking rugby was played and it was fantastic to see the spirit in which the games were played. It was a real pleasure to watch Northmead playing incisive and attacking rugby. In the final reckoning, the Year 5 team came 5th and the Year 6 teams came 5th and 7th. It was a tournament of small margins and an extra victory for any of the sides would have seen them pushed into the top two. All the children who took part played with enthusiasm and skill and it was a pleasure to be awarded the Fair Play award – judged after each and every match by the referees. Special mention must go to the six girls who, due to tournament rules dictating two girls had to be on the pitch at all times, played every minute of every match! A big thank you to Mrs Mansfield and Miss Helgadottir who came to manage a team and to all the parents who came to support.