School Hedgehog - Update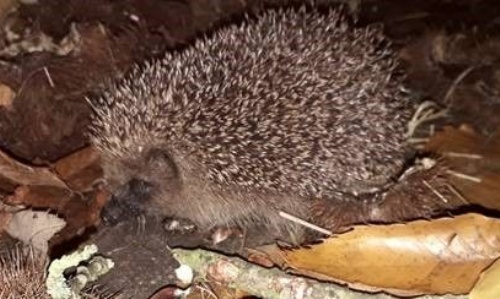 Hedgehog Food Donations
A huge heartfelt thank you for your kindness and generosity.
We now have a happy hedgehog who has a lovely variety of food to enjoy.
The children really enjoy checking for clues to see if she has visited and they replenish her food with great excitement.
Hopefully she will be gaining weight as she eats a whole bowl full every night!
As soon as I catch her out and about after dark, I will get an updated photo to share.
Thank you for your support
Mrs Backhurst
This is our school hedgehog. She visits after dark.
At lunchtime, the children at Guinea Pig Club look after the wildlife too.
We have two hedgehog houses in school now. One was kindly donated and one was made by the children using some stone slabs.
In each house there is a dish of food and every night this disappears.
We wanted to make sure that it was the hedgehog eating the food so we set a trap! using slabs of clay as doormats to the houses, we recorded the visitor's footprints.
It's definitely the hedgehog!
It is important that we feed her to help her to survive the winter, as she is a little too small to hibernate. Hedgehogs need a certain percentage of fat to keep them alive as they sleep.
If anyone wishes to donate some hedgehog food, it would be gratefully received and put to very good use. Dried food is better than tins but anything is appreciated.
Thank you so much for your help and support. - Mrs Backhurst